This is just a new nuke explosion graphic I made for my own personal use.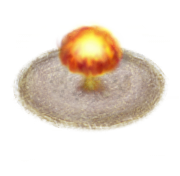 It's not perfect but I like it.
If you want to try it just save the image above to your computer, go into the data/amplio2 folder, rename the current nuke.png to something else like nuke_old.png, then move the new image into that folder and change it's name to nuke.png. Feel free to change it and share your version here if you want to.