MARRAKECH
- "France has entered a new stage of imperialist aggression. Its tanks rolling over our cities have shown that the French cannot be negotiated with and that the only way to deal with the intruders is through a barrel of a gun," said the Moroccan information minister Abdul Saeed al-Sahhaf on a today's press conference, held at the balcony of the improvised Ministry of Information offices in Marrakech. The conference was held in a haste after the massive invasion of French armour that crossed the Morrocan border last night and, reportedly, taken over a number of key border towns. However, minister al-Sahhaf called the reports "grossly overexaggerated".
"There are no enemy tanks in our cities! Our forces are holding out and inflicting heavy losses on the enemy. I have been asked is it true that Tangier, Fes and Casablanca have fallen and I can resolutely say: no! Our army and population are giving heavy resistance and we expect that the enemy will be thrown back to their initial positions by the end of the day!"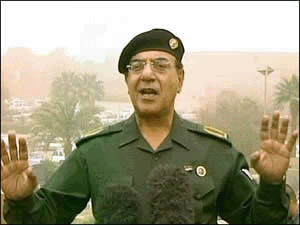 The minister, however, asked the international community for aid in money and resources in order to be able to contain the aggression more easily. "We have already started our counterattack and, with the cooperation of our guerrilla units who are wreaking havoc in the enemy's background, we shall emerge from this victorious."
The conference ended abruptly when some servicemen ran into the building and whispered something in the Information Minister's ear, after which he asked the journalists to leave the building as it is going under some emergency renovation. The journalists were then loaded onto military trucks and hasted in the direction of Agadir.
Some excerpts from the press conference can be seen below:
https://www.youtube.com/watch?v=s27Oq5ot0ZI